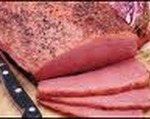 Prep: 6 hr 25 min
Cook Time: 5 min
Total: 6 hr 30 min
Serving: 8
Corned Beef and Cabbage Mold would be perfect at your St. Patrick's Day celebration.
Ingredients
2 envelopes unflavored gelatin
1 teaspoon salt
2 tablespoons lemon juice
1/4 teaspoon Tabasco sauce
1 1/2 cups mayonnaise
2 tablespoons onion, finely chopped
1/2 cup sweet pickle, chopped
1 cup celery, chopped
1 cup cabbage, finely shredded
1, 12 ounce can corned beef, finely chopped
lettuce and cherry tomatoes for garnish.
Directions
Soften gelatin in 1 cup cold water in saucepan. Cook over low heat for 5 minutes or until dissolved, stirring constantly. Stir in salt, lemon juice and Tabasco sauce. Combine with mayonnaise gradually in mixing bowl. Add onion. Chill until partially set, stirring occasionally.
Add remaining ingredients, mixing well. Pour into 6 cup mold. Chill until firm. Garnish unmolded salad with cherry tomatoes and salad greens.