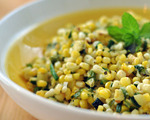 Prep: 10 min
Cook Time: 10 min
Total: 20 min
Serving: 4 Servings
A tasty Labor Day weekend dish to enjoy with grilled fare, this vibrant yellow salad speckled with lush bits of green color is a delicious combination of fresh sweet corn, zucchini and minced chives.
Ingredients
2 small zucchini, diced
Sea salt and freshly ground black pepper
1 tablespoon olive oil
1 tablespoon unsalted butter
4 ears sweet corn
1 cup minced chives
1/2 cup chopped mint, plus sprigs to garnish
Directions
Put the zucchini into a bowl and sprinkle with a few pinches of salt. Toss to coat and then set aside.
In the meantime, use a sharp knife to shave the corn kernels off of the cob.
Place a sauté pan over medium heat and then add the oil and the butter. Once the butter begins to foam, stir in the corn and sauté for 5 minutes.
Drain the zucchini and then add to the sauté pan. Stir in the chives and the mint, and then sauté the mixture for 3 minutes. Sprinkle the mixture with additional salt and pepper to taste and then transfer to a serving dish. Serve immediately.