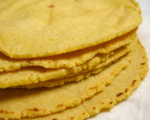 Prep: 5 min
Cook Time: 10 min
Total: 15 min
Serving: 8
Masa harina, a flour made from dehydrated corn and lime juice, give corn tortillas their signature taste and texture. You can find masa harina in most supermarkets in the ethnic section. Some specialty Mexican markets carry masa dough freshly made and ready to press.
Ingredients
2 cups masa harina
¼ teaspoon salt
1 ¼ cup hot water
Directions
Place the masa harina and salt in a large bowl.
Add water, a couple tablespoons at a time, and toss with your fingers until liquid is incorporated and forms a soft dough.
Mix and knead dough on a lightly floured surface until the dough feels elastic and holds together without cracking.
Divide the dough into 8 equal portions and roll each portion into a ball.
Cover with a damp (not wet) towel and let stand for 30 minutes.
Place a portion of dough between two pieces of plastic wrap and evenly flatten with a rolling pin or a tortilla press until thin.
Repeat with remaining portions, setting flattened tortillas aside under a damp towel.
Preheat griddle or cast-iron skillet on high heat. Cook each tortilla for 30 to 60 seconds or until golden.
Flip and cook for another minute or until golden. Tortilla will puff.
Remove from heat while tortilla is still pliable and not crisp.
Stack on a plate covered with a towel to keep warm until ready to serve.