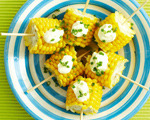 Prep: 10 min
Cook Time: 5 min
Total: 15 min
Serving: 4 Servings
This dish is a great appetizer to serve at an outdoor barbeque, and is also a fun and festive way to serve up corn on the cob at a kid's party.
Ingredients
1-3/4 pounds corn cobs
4 tablespoons butter, melted
chives, finely chopped for sprinkling, optional
1/2 cup cream cheese
6 tablespoons cream
Directions
Place the cream cheese and the cream into a bowl and vigorously mix together until well-blended.
Break the cobs in half and then put the corn into a pot; fill with just enough water to cover. Bring the water to a boil and then reduce the heat to medium-low and simmer for about 3-4 minutes.
Carefully drain the hot corn and then place onto skewers. Brush each cob on all sides with melted butter and then transfer to a serving dish. Dollop the corn with the cheese mixture and then sprinkle with the chives.