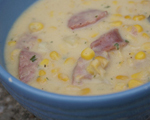 Prep: 10 min
Cook Time: 25 min
Total: 35 min
Serving: 8 servings
Pairing creamy corn chowder with smoked sausage makes an excellent blend of flavors in this simple yet hearty soup recipe.
Ingredients
1 package Smoked Sausage, cut into 1/2-inch pieces
1/4 cup butter or margarine
1 medium onion, chopped (about 1 cup)
1/4 cup all-purpose flour
1/2 teaspoon salt
1/8 teaspoon ground black pepper
4 cups milk
1 15-1/4-ounce can whole kernel corn, drained
2 cups cubed potatoes, cooked, drained
chopped parsley, optional
shredded cheddar cheese to top
Directions
Place the butter in a large saucepan over medium heat, add the onion and sauté for 5 minutes.
Sprinkle in the flour, salt and pepper, and cook the mixture for 1 minute, stirring constantly to prevent sticking.
Slowly pour in the milk, whisking continuously to blend, and then bring the mixture to a boil over medium-high heat.
Cook the mixture for 1 minute and then stir in the corn and the sausage. Return the mixture to a boil and then reduce the heat to medium-low and simmer for 10 minutes.
Add the potatoes and cook for an additional 3 minutes, and then ladle into serving bowls. Top with some parsley and cheddar cheese and serve immediately.