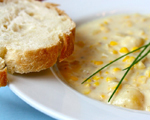 Prep: 10 min
Cook Time: 40 min
Total: 50 min
Serving: 6 Servings
This creamy soup blends the sweet flavor of corn with the smoky flavor of bacon. A quick and delicious comfort food enjoyable all year round.
Ingredients
6 slices bacon, diced
1/2 cup finely chopped onion
2 cups diced raw potatoes
1 1/2 cups water
2 teaspoons salt
1/8 teaspoons pepper
2 cups cream style corn
2 tablespoons olive oil, melted
2 tablespoons flour
3 cups milk
Parsley, shredded cheese, corn chips (optional)
Directions
In a medium pot, fry bacon on high heat until crisp; remove and set aside.
Add the onion to the pot and sauté in the bacon drippings until soft and transparent.
Add the potatoes and continue to sauté for 5 minutes.
Add back the bacon to the pot along with the water, salt, pepper and corn. Cover and simmer for 15 to 20 minutes, or until tender.
In a small saucepan, blend the olive oil and flour over medium heat. Slowly stir in the milk, whisking continuously, until slightly thickened. Add to the corn mixture and stir until heated through. Sprinkle with parsley, shredded cheese and corn chips.