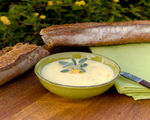 Prep: 20 min
Cook Time: 30 min
Total: 50 min
Serving: 6
When the weather takes a rainy and cold turn, celebrate with a hearty bowl of tender chicken and vegetables bathed in a creamy corn puree
Ingredients
1 cup half and half
1 cup nonfat milk
1 cup corn kernels (thawed, if using frozen)
3 ounces turkey bacon, diced
1, 6-ounce onion, diced (about 1 cup)
1, 8-ounce red bell pepper, diced (about 1 cup)
1/4 teaspoon cayenne
1 teaspoon black pepper
1 teaspoon salt
1 teaspoon dried thyme
6 ounces crimini or brown mushrooms, sliced (about 1 cup)
2 cups diced cooked skinless chicken breast (about 2 breast halves)
2 cups corn kernels (thawed, if using frozen)
3 cups water
Directions
In a blender or food processor, puree half and half and milk with 1 cup of corn and set aside.
In a large nonstick stockpot, cook bacon on medium-high heat, stirring frequently, until browned, about 2 to 3 minutes.
Remove with a slotted spoon and transfer to a plate lined with paper towels.
Add onion, bell pepper, and spices to the stockpot and cook, stirring frequently, until onions are soft, about 5 minutes.
Add mushrooms, chicken, 2 cups corn kernels, and reserved bacon, stirring to combine.
Pour in 3 cups water, partially cover and bring to a boil.
When soup comes to a boil, immediately reduce heat to medium-low and simmer uncovered for about 10 minutes (adjust heat so that only a few bubbles break the surface).
Add half and half mixture and let chowder come back to a simmer.
Cook for another 5 minutes to blend the flavors.
Do not boil or dairy mixture will separate.
Remove from heat and serve piping hot with a slice of melon, a refreshing green salad and whole-wheat roll.