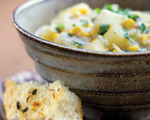 Prep: 10 min
Cook Time: 20 min
Total: 30 min
Serving: 4 Servings
This comforting soup is chockfull of sweet corn. You can also substitute the canned corn with the fresh variety as an even tastier option.
Ingredients
1-1/2 teaspoons olive oil
1/2 cup chopped onions
2 (11-ounce) cans yellow-and-white whole kernel corn
1 stalk celery, minced
4 cups low-fat chicken broth
4 cups potatoes, cubed
1/2 cup thinly sliced green onions
1/2 cup grated cheddar cheese
1/2 cup half & half
Salt and freshly ground pepper to taste
Directions
Place the olive oil into a soup pot over medium heat. Once shimmering, add the onions, corn and celery and sauté over medium heat for 3 minutes. Stir in the chicken broth, potatoes, green onions and a few pinches of salt and pepper to taste, and then bring the mixture to a boil.
Once boiling, reduce the heat to medium-low and simmer the soup for 15 minutes. Stir in the cheese and the half & half and then gently heat the mixture until the cheese has completely melted. Serve hot.