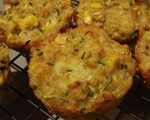 Prep: 10 min
Cook Time: 22 min
Total: 32 min
Serving: Makes 12 muffins
These savory muffins are studded with shredded zucchini and corn. Serve with hearty soups and stews or with crisp salads as a flavorful alternative to bread.
Ingredients
1-1/4 cups milk
2 tablespoons vegetable oil
1 egg
1 cup all-purpose flour
1 cup whole-wheat flour
3 teaspoons baking powder
1/2 teaspoon salt
1/2 cup shredded zucchini (1/2 medium)
1/2 cup cooked whole corn
Directions
Preheat your oven to 400 degrees and grease a muffin tin with cooking spray.
Place the milk, oil and egg into a bowl and beat until thoroughly blended. Stir in both of the flours, the baking powder and the salt, and then fold in the shredded zucchini and the corn.
Spoon the batter into the prepared muffin tins and place into the oven for 22 minutes. Remove the muffins immediately from the pan and place on a wired rack to cool.