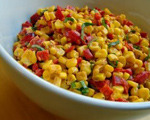 Prep: 10 min
Cook Time: –
Total: 10 min
Serving: 4 Servings
This corn and roasted red pepper salad is going to become a summertime favorite. Use freshly shaved corn right off the cob if possible, and serve as a colorful side to grilled barbecue fare.
Ingredients
1 pound fresh or frozen sweet corn
1 cup diced roasted red peppers
5-6 basil leaves, finely chopped
Dash cayenne pepper
Sea salt and fresh ground black pepper to taste
1/2 cup mayonnaise
1/4 cup red wine vinegar
1/4 cup olive oil
1/4 teaspoon dried Italian herbs
1/2 teaspoon sugar
2 teaspoon water
Directions
Place the corn, red peppers and basil into a salad bowl. Add the dash of cayenne and a few pinches of salt and fresh pepper, and then toss the mixture to combine.
Put the mayonnaise, red wine vinegar, olive oil, dried Italian herbs, sugar and water into a medium bowl and whisk vigorously until thoroughly blended. Season to taste with some salt and pepper, and then pour the dressing over the corn mixture.
Toss the corn and red pepper salad with the dressing to coat and then serve immediately.