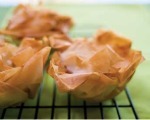 Prep: 10 min
Cook Time: 15 min
Total: 25 min
Serving: Serves 8-10 people
A unique appetizer for your next get together, Corn & Feta Phyllo Pouches are simple to make and hold a tasty treat inside.
Ingredients
9 ounces of canned corn, rinsed and drained
4 ounces Feta cheese
8-10 small sheets of phyllo pastry
1 egg, beaten
2 tablespoons heavy cream
1 tablespoon Parmesan cheese, grated
3 scallions, chopped
1 cup of butter, melted
Freshly ground black pepper to taste
Directions
Preheat your oven to 375 degrees F. Butter two baking sheets. Crumble the Feta cheese into a medium-sized bowl and stir in the corn. Add the egg, cream, Parmesan cheese, scallions and pepper. Mix together well.
Using one sheet of the phyllo, cut it in half to make a square. Keep remaining pastry covered with a damp cloth to keep it from drying out. Brush the square of phyllo with melted butter and fold it in fourths, making a smaller square about 3 inches big. Continue making these squares with all the dough.
Place a heaping teaspoon of the mixture into the center of each square and squeeze it around the edges to form a "pouch." Brush the outsides of each pouch with remaining butter and bake until golden (about 15 minutes). Serve hot.