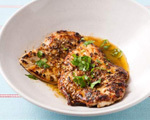 Prep: 10 min
Cook Time: 15 min
Total: 25 min
Serving: Makes 4 Servings
Even though coriander comes from the same plant as cilantro, the tastes are so vastly different. This recipe merges both the plant's seed and leaves for an amazing blend of flavor.
Ingredients
2 tablespoons coriander seed
Salt and freshly ground black pepper
2 tablespoons olive oil
1-1/2 pounds chicken breast cutlets
1/4 cup water
1/4 cup fresh lemon juice
3 tablespoons unsalted butter, cut into 3 pieces
1/3 cup chopped cilantro
Directions
Using a mortar and pestle or a spice grinder, coarsely grind the coriander seeds.
Place a large sauté pan over medium-high heat. Once hot, add the olive oil.
Season the chicken cutlets on both sides with the coriander, salt and pepper and then add to the pan once the oil begins to shimmer.
Cook the chicken, do not overcrowd, for about 2 minutes on each side, flipping once, until no longer pink inside, then transfer to a plate and cover loosely with foil to keep warm.v
Add water to the pan and bring to a boil, then add the lemon juice and stir the mixture until reduced to 1/4 cup.
Take the pan off the heat and stir in the butter, a sprinkle of salt and pepper and the cilantro. Spoon the sauce over the chicken and serve immediately.