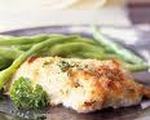 Prep: 1 hr 25 min
Cook Time: 10 min
Total: 1 hr 35 min
Serving: 4
Lightly fried and infused with fresh dill, Copenhagen Cod Cakes taste great with a side of cole slaw.
Ingredients
1 pound cod fillets, fully thawed
6 cups water with 3 tablespoons salt
2 fresh dill sprigs
4 peppercorns
1/2 cup cooked diced potatoes
1/2 cup carrots, grated
1 cup breadcrumbs
2 tablespoons onion, grated
2 tablespoons fresh dill, chopped
1/2 cup mayonaise
1 tablespoon sweet pickle, minced
1 egg
1 tablespoon Dijon mustard
1 tablespoon vegetable oil
1 tablespoon butter
Directions
Bring water to a boil. Add dill sprigs and peppercorns. Reduce heat and add cod fillets.
Simmer until fish is opaque, about 5 minutes. Remove with slotted spoon. Drain well and flake fish into a large bowl.
Add potatoes, carrots, 1/4 cup breadcrumbs, dill and onion. In another bowl, combine mayonaise, pickle, egg and mustard. Fold into fish mixture. Form into six patties. Place remaining breadcrumbs on a plate and coat fish cakes well. Cover and refrigerate 1 hour.
Heat oil and butter in a skillet. Cook as many fish cakes as will fit in pan allowing enough room to turn. Saute 3 to 4 minutes on each side. Keep warm until ready to serve.