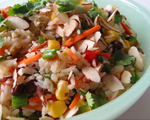 Prep: 10 min
Cook Time: 20 min
Total: 30 min
Serving: Serves 6-8
This rice dish is the perfect side for most of your meals. Try using different kinds of rice with this recipe including, brown rice, basmati and jasmine.
Ingredients
2 tablespoons olive oil
1 cup uncooked rice
1/3 cup chopped onion
1/3 cup chopped green pepper
1/3 cup corn
2 cups chopped canned tomatoes
1 cup water
1 teaspoon salt
1/4 teaspoon freshly ground pepper
1 teaspoon Worcestershire sauce
1/2 teaspoon prepared mustard
1 vegetable bouillon cube
Parsley and slivered almonds to garnish
Directions
In a medium sauce pan, heat the olive oil on medium-high heat. Sauté the rice, onion, green pepper and corn until vegetables are tender, about 4 minutes.
Add the remaining ingredients to the pan and bring to a boil. Once boiling, reduce heat and simmer, covered, for 20 minutes or until all of the liquid is absorbed. Garnish with parsley and slivered almonds.