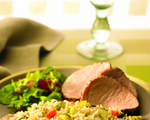 Prep: –
Cook Time: 30 min
Total: 30 min
Serving: 6 People
Show your heart you care, try this terrific, heartwarming recipe for confetti rice pilaf, loaded with heart-healthy omega-3s, folic acid and whole grains.
Courtesy of the USA Rice Federation
Ingredients
2 teaspoons olive oil
1/2 cup cubed or julienned carrots
1/2 cup cubed or julienned zucchini
1/2 cup cubed or julienned yellow squash
1 clove garlic, minced
3 cups cooked brown rice (cooked in low-sodium chicken broth)
1/4 teaspoon ground black pepper
1/4 teaspoon minced fresh rosemary leaves, or favorite herb
Directions
Heat oil in large skillet over medium heat; add carrots, zucchini, squash and garlic; cook until vegetables are tender crisp; stir in rice, pepper and rosemary; cook until thoroughly heated.
Serving suggestion: Makes a great side dish for grilled meats, poultry or seafood.
Note: To julienne vegetables, slice diagonally and cut each slice into matchstick-size strips.