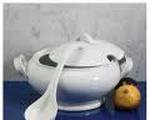 Prep: 25 min
Cook Time: 1 hr 20 min
Total: 1 hr 45 min
Serving: 6
Conch Chowder is special treat.
Ingredients
1 1/2 pound conch, cleaned
3 bay leaves
1 can evaporated milk
1/2 pound bacon, finely chopped
1 1/2 teaspoon garlic clove, finely chopped
4 medium tomatoes, peeled and seeded
1 large potato, cut into 1/2 inch cubes
1 tablespoon long grain rice, uncooked
2 medium onions, sliced
1 quart water
Directions
Put conch through food processor. Set aside conch.
Saute bacon until crisp and brown. Add onions and garlic and cook, stirring often, until soft but not brown. Stir in conch, tomatoes, rice, bay leaves and water. Bring to a boil and reduce heat and simmer partially uncovered for 1 hour.
Pour in milk and stir until heated through, but do not let come to a boil. Remove bay leaves.