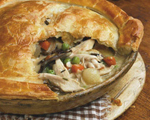 Prep: 25 min
Cook Time: 1 hr
Total: 1 hr 25 min
Serving: Makes 1, 1-1/2 quart casserole
Nothing says home quite like chicken pot pie made with puff pastry and filled with carrots, potatoes, peas and chunks of chicken. If you have extra time, roast the chicken yourself; otherwise grab a roasted chicken from the supermarket.
Ingredients
1 sheet frozen puff pastry
2 tablespoons butter
1 roasted chicken, shredded
1/4 cup chopped red sweet pepper
2 medium shallots, thinly sliced
1/4 cup all-purpose flour
3/4 teaspoon salt
1/2 teaspoon dried tarragon, crushed
1/4 teaspoon black pepper
2 cups milk
1 cup heavy cream
1/3 cup dry white wine
1-1/2 cups peas, blanched
1-1/2 cups carrots, blanched
2 potatoes, peeled, diced, and boiled
1 egg plus 1 tablespoon milk, for egg wash
Directions
Thaw the puff pastry according to package directions.
Preheat the oven to 425 degrees.
In a large sauté pan, melt the butter over medium-high heat and sauté the chicken, sweet pepper and shallots for about 5 minutes. Sprinkle in the flour, salt, tarragon and pepper and cook for about 2 minutes.
Stirring constantly, pour in the milk and cream and cook until mixture is thick and bubbling. Pour in the wine and add the peas, carrots and potatoes; heat the mixture through and then empty into a 1-1/2 quart casserole dish.
Put the pastry over the chicken mixture and then brush with the egg wash. With a knife, cut slits into the top of the puff pastry and place in oven for 40 minutes.
Remove chicken pot pie from oven and let sit for 10 minutes before serving.