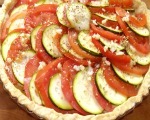 Prep: 15 min
Cook Time: 60 min
Total: 1 hr 15 min
Serving: Serves 8 people
Colorful Vegetable Tart makes a great light meal or side dish and gives you your much-needed veggies for the day.
Ingredients
Olive oil cooking spray
6-ounce pre-made, frozen pie crust, thawed
2 large tomatoes, sliced
1 medium zucchini, sliced
1 small yellow squash, sliced
1 cup ricotta cheese
1/4 teaspoon dried thyme
1/4 teaspoon dried basil
1/4 teaspoon dried rosemary
Salt and pepper to taste
Directions
Preheat the oven to 375 degrees. Lightly coat a baking sheet with cooking spray.
Using a 9-inch tart pan, bake the pie crust, unfilled, based on the package directions. Let the pie crust cool.
Put the tomato, zucchini and squash slices on the baking sheet and lightly coat them with cooking spray. Bake the vegetables until the tomatoes are slightly dry and the zucchini and squash are tender (about 20-30 minutes). Once cooked, remove and let them cool.
Mix the ricotta cheese, herbs and salt and pepper into a small bowl. Spread the mixture evenly over the pie crust.
Start at the center of the crust and work your way out, and arrange the vegetables, slightly overlapping, alternating the veggies until the entire crust is covered. Put the tart back into the oven until heated through (about 5-10 minutes).
Slice into eight sections and serve.