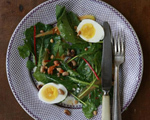 Prep: 10 min
Cook Time: 15 min
Total: 25 min
Serving: Serves 4-6
Use baby collards for this clean and simple salad dish served with boiled eggs, black-eyed peas and loosely packed cilantro leaves.
Ingredients
1 cup raw peanuts
1 cup grapeseed oil
2 teaspoons smoked paprika
Sea salt, to taste
6 tablespoons apple cider vinegar
2 cloves garlic, sprinkled with salt then smashed and minced into a paste
2 shallots, minced
Freshly ground black pepper, to taste
1 medium carrot, peeled
8 ounces baby collard greens, stemmed and thinly sliced crosswise
1 15-ounces can black-eyed peas, drained and rinsed
1 Fresno or Holland chile, stemmed, seeded, and julienned
4 hard-boiled eggs, halved
1⁄2 cup loosely packed cilantro leaves
Directions
Preheat your oven to 325 degrees.
Place the peanuts, 2 tablespoons of oil, paprika and a few pinches of sea salt onto a baking sheet and toss to coat. Place the peanut mixture into the oven and bake for 15 minutes, tossing occasionally. Remove the peanuts from the oven and set aside to cool.
In the meantime, use a vegetable peeler to cut the carrots into ribbons and then place in a shallow salad bowl. Add the collard greens, black-eyed peas and chiles, and then toss to combine.
Coarsely crush the cooled peanuts and then place into a bowl with the remaining grapeseed oil, vinegar, garlic, shallots and a few pinches of salt and pepper; whisk together until thoroughly blended.
Pour the vinaigrette over the carrot mixture and toss gently to combine. Serve the salad garnished with the boiled eggs and sprinkled with the cilantro.