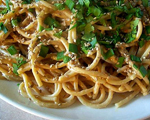 Prep: 2 hr
Cook Time: 6 min
Total: 2 hr 6 min
Serving: Makes 4-6 servings
These noodles are perfect for a picnic lunch or potluck since they are served cold. Enjoy also as a side to Korean Short Ribs or as a main dish itself.
Ingredients
12 ounces angel hair pasta
3 tablespoons dark sesame oil
2 tablespoons peanut oil
1-inch piece fresh ginger, minced
3 garlic cloves, minced
1 teaspoon red chili paste
1 lime, juiced
2 tablespoons brown sugar
1/2 cup creamy peanut butter
3 tablespoons rice vinegar
3 tablespoons soy sauce
6 tablespoons hot water
1 tablespoon toasted sesame seeds
2 green onions, thinly sliced
Fresh chopped cilantro leaves, for garnish
Directions
Bring a large pot of water to a rolling boil and add the noodles. Cook until just tender and noodles still have a firm bite to them.
Drain and rinse with cold water to stop noodles from cooking. Drain again and place in a large bowl with the sesame oil. Toss to coat to prevent sticking.
In another bowl, whisk together the peanut oil, ginger, garlic, chili paste, lime juice, brown sugar, peanut butter, vinegar, soy sauce, and hot water. Pour this mixture over the noodles and toss well until thoroughly coated and combined.
Cover and place in refrigerator until chilled. Before serving garnish with the sesame seeds, green onions, and cilantro.