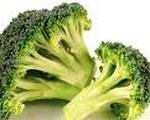 Prep: 15 min
Cook Time: 7 min
Total: 22 min
Serving: 6
Cold Broccoli with Lemon Sauce is a great side dish.
Ingredients
2 bunches broccoli, cut into florets
1 large tomato
Lemon Sauce: 1/2 cup olive oil
1/3 cup lemon juice
1 large garlic clove, pressed through garlic press
1/2 teaspoon dry basil
1/2 teaspoon oregano
1/4 teaspoon onion powder
salt and pepper to taste
Directions
Cook florets in lightly salted water for 7 minutes. Remove with a slotted spoon and place on a large platter. Leave center open to place a bowl with lemon sauce.
Combine all ingredients for lemon sauce and place in bowl. Cut tomato in wedges and place on the outside edge of broccoli. Serve as a side dish.