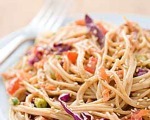 Prep: 15 min
Cook Time: 30 min
Total: 45 min
Serving: Serves 4 people
This delightful dish, Cold Asian Noodle Salad, is a meal in itself. Stocked with veggies and toasted sesame seeds, this dish is sure to hit the spot.
Ingredients
6 ounces of linguine or spaghetti
3 tablespoons of soy sauce
3 tablespoons of rice vinegar
1 tablespoon of sesame oil
1 teaspoon of sugar
1/2 teaspoon of five-spice powder (look in the Asian food aisle of the grocery store)
1/8-to-1/4 teaspoon of crushed red pepper flakes
1 garlic clove, minced
1 cup of shredded red cabbage
1 cup of coarsely shredded carrots
1 cup of red bell pepper strips, cut in 2-inch pieces
1/2 cup of green onions, sliced diagonally
4 ounces (1 cup) of pea pods, cut diagonally in half and blanched
1, 8-ounce can of sliced water chestnuts, drained and rinsed
2 tablespoons of sesame seeds, toasted
Directions
Cook the pasta according to the directions on the package. Drain and rinse with cold water. Set aside
In a small bowl, combine the soy sauce, vinegar, sesame oil, sugar, five-spice powder, red pepper flakes and garlic and mix together well.
Put the cooked pasta in a medium bowl and pour half the dressing over it and toss it to coat. Refrigerate the pasta for about 30 minutes so the flavors blend together.
Use a large bowl and combine the refrigerated pasta, vegetables and the remaining dressing. Toss to coat, and serve.