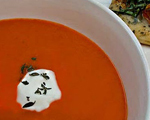 Prep: 4 hr 30 min
Cook Time: 27 min
Total: 4 hr 57 min
Serving: 4 Servings
A great soup starter to a variety of meals, garnish with some sour cream and a sprinkle of fresh basil.
Ingredients
7 red bell peppers, roasted
1 medium onion, chopped
1 small boiling potato, peeled and diced
2 tablespoons olive oil
1 teaspoon ground cumin
3-1/2 cups water
2 cups chicken broth
1 medium tomato, seeded and peeled
salt and freshly ground black pepper to taste
Directions
In a large soup pan, add the oil over medium-high heat and sauté the onion, potato and cumin for 6 minutes.
Add the roasted peppers, water and the broth to the pan and bring to a boil.
Reduce the heat and simmer the mixture, covered, for 18 minutes.
Using a hand held mixer, puree the soup until smooth and then season to taste with salt and pepper.
Remove the soup from the heat and allow to cool before placing in the refrigerator, covered, for at least 4-1/2 hours until chilled.