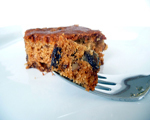 Prep: 20 min
Cook Time: 45 min
Total: 1 hr 5 min
Serving: 15-18 People
Serve this coffee-flavored cake after breakfast or use as an afternoon snack. Top with cream cheese for additional flavor or sprinkle with powdered sugar just before serving.
Ingredients
8 ounces sour cream
1/2 cup brewed coffee, room temperature
1/2 teaspoon vanilla
2 ounces chocolate pieces
1/2 cup butter
1-1/2 cups sugar
2 eggs
1-1/2 cups flour, divided
1 teaspoon baking soda
1 teaspoon cinnamon
1/2 teaspoon baking powder
1/2 teaspoon salt
Directions
Preheat oven to 325 degrees.
Blend sour cream, coffee and vanilla; set aside.
Melt chocolate and butter in a saucepan over medium heat, stirring until completely melted. Mix in sugar.
Add eggs, 1/2 cup flour, baking soda, cinnamon, baking powder and salt; mix thoroughly.
Add remaining flour and sour cream mixture to egg mixture, blending well.
Pour mixture into greased 9x13 baking dish.
Bake at 325 degrees for 45 minutes.