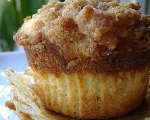 Prep: 20 min
Cook Time: 20 min
Total: 40 min
Serving: 1 dozen
Ingredients
1/2 cup brown sugar
1/2 cup chopped walnuts
2 tablespoons flour
2 teaspoons cinnamon
2 tablespoons butter, melted
1 1/2 cups sifted flour
1/2 cup sugar
2 teaspoons baking powder
1 beaten egg
1/2 teaspoon salt
1/4 cup shortening
1/2 cup milk
Directions
Preheat oven to 375 degrees Fahrenheit. Line muffin pan with paper liners.
Combine the first five ingredients and set aside.
Sift the remaining dry ingredients. Add in the shortening until it resembles coarse crumbs.
Mix the egg and milk together, add to the flour mixture and stir until moistened.
Spoon in a small amount of the batter, add a layer of the nut mixture, and repeat until the cup is 2/3 full. Bake for 20 minutes.