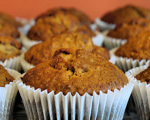 Prep: 15 min
Cook Time: 25 min
Total: 40 min
Serving: Makes 1 dozen muffins
These coffee-flavored bran muffins will be quite popular at your next breakfast get-together. Spread cream cheese over top just before serving.
Ingredients
1-1/3 cups flour
1 teaspoon baking soda
1-1/2 cups bran cereal
1 cup buttermilk
1/2 cup sugar
1/4 cup butter
1/2 cup coffee, room temperature
1/4 cup dark corn syrup
1 egg
3/4 cup raisins
Directions
Preheat oven to 375 degrees.
Combine flour and baking soda; set aside.
Pour buttermilk over cereal and let stand for 5 minutes.
Cream sugar and butter, then add coffee, corn syrup and egg.
Mix in flour and cereal mixtures until batter becomes lumpy.
Fold in raisins.
Pour batter into prepared muffin tins.
Bake at 375 degrees for 25 minutes.