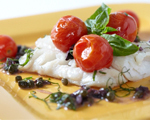 Prep: 15 min
Cook Time: 18 min
Total: 33 min
Serving: 4 Servings
Succulent pieces of roast cod are topped with a sweet and savory topping of tomatoes, olives and capers.
Ingredients
4 (6- to 8-ounce) pieces skinless, boneless cod (1-1/4 to 1-1/2 inch thick each)
8 ounces cherry or grape tomatoes (about 1-1/2 cups)
2 tablespoons extra-virgin olive oil
sea salt
freshly ground white pepper
1/3 cup pitted Kalamata olives, roughly chopped
2 tablespoons capers (preferably salt-packed), well rinsed
1 teaspoon fresh lemon juice
1 tablespoon butter
3 tablespoons thinly sliced basil leaves
Directions
Preheat the oven to 475 degrees.
Place the cod into a roasting pan and then add the tomatoes. Drizzle the mixture with the olive oil, and then sprinkle with salt and pepper.
Put the fish in the oven and roast for 14 minutes; tomatoes should split but not burst.
Transfer the fish and tomatoes to a serving platter, and then add the olives, capers and lemon juice to the pan. Bring the mixture to a simmer over medium-high heat and then add the butter, whisking to combine.
Top the fish with the caper and olive mixture and then garnish with the basil leaves. Serve immediately.