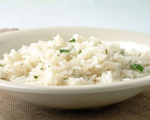 Prep: 10 min
Cook Time: 40 min
Total: 50 min
Serving: 8
Plain rice may never again have a place on your table after this recipe. Coconut milk adds a creamy tenderness to the nutlike basmati rice.
Ingredients
1 cup lite coconut milk
1 ½ cups water (or chicken broth for a richer flavor)
Pinch salt
1 cup long-grain brown basmati rice, rinsed, drained
¼ cup cilantro, finely chopped
½ cup chopped green onions (white and green parts)
½ cup crushed pineapple
⅓ cup currants
¼ cup fresh shredded coconut (sweetened or unsweetened)
Juice of half of a lemon (about 1 ½ tablespoons)
½ teaspoon white pepper
Directions
In a saucepan, combine the coconut milk, water, and salt.
Bring to a boil and stir in the rice.
Reduce the heat to medium-low, cover and simmer until the liquid is absorbed, about 30 to 40 minutes.
Remove from heat and let sit for 10 minutes then fluff with a fork.
Pour rice into a large serving bowl and add remaining ingredients.
Combine well and serve hot.