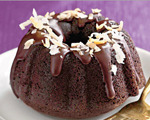 Prep: 26 min
Cook Time: 55 min
Total: 1 hr 21 min
Serving:
To get the most out of this delicious treat, try serving with berries rich in vitamin C to help absorb the iron.
Ingredients
Cooking spray
3⁄4 cup sifted cake flour
1⁄3 cup unsweetened cocoa powder
1⁄2 cup plus 2 tablespoons sugar
1 teaspoon baking soda
1⁄4 teaspoon salt
2 egg yolks
1⁄3 cup cold water
2 tablespoons vegetable oil
4 egg whites, at room temperature
1⁄3 cup bittersweet chocolate chips
1⁄4 teaspoon cream of Tartar
2 tablespoons butter
1 tablespoons shredded sweetened coconut, toasted
Directions
Preheat oven to 350 degrees F.
Lightly spray mini bundt cake molds with cooking spray. In a bowl, combine flour, cocoa, sugar, baking soda, and salt.
In a separate bowl, whisk egg yolks, water, and oil until well blended. Whisk in about 1/3 of the flour mixture and stir until just combined. Add another 1/3 of the flour mixture and whisk again. Add remaining mixture and whisk until just combined.
In a large clean bowl, beat egg whites with an electric mixer on high speed until foamy. Add cream of tartar and beat on high speed until stiff peaks form. Stir a quarter of the egg whites into batter. Gently fold remaining egg whites into batter until just blended and no white streaks are visible.
Evenly divide batter into prepared Bundt cake molds. Bake for 25 to 30 minutes or until a skewer inserted into center comes out clean. Set mold on rack to cool for about 10 minutes. Using a small metal spatula, gently loosen edge of cakes. Turn cakes onto rack and cool completely.
In a small saucepan, heat the chocolate chips and butter over medium-low, stirring frequently, for about 1 to 2 minutes or until just melted and mixture is smooth. Remove pan from heat. Drizzle about 2 teaspoons on each coconut-chocolate mini Bundt cake. Sprinkle about 1/2 teaspoon coconut on each cake.