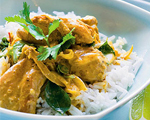 Prep: –
Cook Time: 25 min
Total: 25 min
Serving: Makes 4-6 servings
Enjoy the flavors of Indian cooking with this chicken dish made with coconut milk and curry.
Ingredients
2 pounds bone-in chicken thighs and/or breasts
Salt and freshly ground black pepper to taste
2 tablespoons vegetable oil
1 cup chopped onions
1 large carrot, sliced
1/2 cup peas, thawed if frozen
2 scallions, chopped
1 jalapeno pepper, seeded and chopped
1 tablespoon finely chopped peeled fresh ginger
3 garlic cloves, finely chopped
1-1/2 cups unsweetened coconut milk
1/2 cup golden raisins
1 tablespoon curry powder
1 teaspoon salt
Directions
Put the oil in a large sauté pan over high heat. Sprinkle the chicken thoroughly with salt and pepper and place in the pan to brown on all sides for about 6 minutes. Remove chicken and set aside.
Add the onions, carrots, peas, scallions, jalapeno pepper, ginger and garlic to the sauté pan and cook for 5 minutes.
Pour in the coconut milk and add the raisins, curry powder and salt to the pan; bring to a boil.
Return the chicken back to the pan and reduce the heat to medium-low. Simmer the mixture for 25 minutes and then serve immediately over white rice.