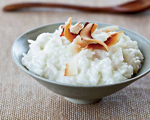 Prep: 10 min
Cook Time: 45 min
Total: 55 min
Serving: 6 Servings
This quick dessert is made with coconut milk and Arborio rice, which is Italian short-grained rice with a high starch content that is frequently used in puddings and risotto.
Ingredients
1 quart whole milk
1 cup arborio rice, about 8 ounces
1/2 cup sugar
1 14-ounce can unsweetened coconut milk
1/2 cup coarsely shredded unsweetened coconut
2 cups water
Directions
Place the milk, rice, sugar and water into a saucepan over medium-high heat and bring to a boil. Once boiling, reduce the heat to medium and simmer the mixture for 30 minutes, stirring occasionally.
Pour in the coconut milk and bring the mixture back to a simmer; stir and cook the rice mixture for 10 minutes.
Place the shredded coconut in a small sauté pan over medium heat and toast, stirring constantly, for 3-4 minutes until golden. Set aside to cool.
Transfer the pudding into bowls and serve sprinkled with the toasted coconut.