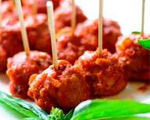 Prep: 30 min
Cook Time: 35 min
Total: 1 hr 5 min
Serving: About 70 1-inch meatballs
If you are going to pass around a hot appetizer at your next gathering, then make sure you have these sweet and spicy meatballs on the menu.
Ingredients
2 pounds ground beef
1 cup crushed cornflakes
1/3 cup ketchup
2 tablespoons soy sauce
3 tablespoons minced onion
1/4 cup finely chopped parsley
3 garlic cloves, minced
1/4 teaspoon black pepper
2 eggs
1 tablespoon brown sugar
16 ounces (1-1/2 cups) jellied cranberry sauce
1 tablespoon fresh lemon juice
1, 12-ounce bottle chili sauce
Directions
Preheat the oven to 350 degrees.
In a large bowl, add the beef, cornflakes, ketchup, soy sauce, onion, parsley, garlic, pepper and eggs, and mix together with a large fork or by hand.
Roll beef mixture into 1-inch in diameter meatballs and then place in a 13x9x2-inch baking pan.
Add the brown sugar, cranberry sauce, lemon juice and chili sauce to a medium-sized saucepan and bring to a simmer over medium heat. Stir well to make sure that the cranberry sauce has totally melted.
Pour the cranberry mixture over the meatballs and bake for 30 minutes. Serve on a platter with toothpicks.