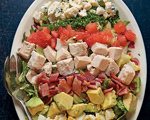 Prep: 15 min
Cook Time: –
Total: 15 min
Serving: Serves 4-6
Cobb Salad, first invented and served in 1937 at LA's Brown Derby restaurant, is still considered a popular dish throughout the United States.
Ingredients
FOR THE DRESSING:
3⁄4 cup canola oil
1⁄4 cup extra-virgin olive oil
1⁄4 cup red wine vinegar
1 tablespoon fresh lemon juice
3⁄4 teaspoon dry mustard
1⁄2 teaspoon Worcestershire
1⁄4 teaspoon sugar
1 clove garlic, minced
Sea salt and freshly ground black pepper
FOR THE SALAD:
1⁄2 head iceberg lettuce, cored and shredded
1⁄2 head romaine lettuce, chopped
1⁄2 bunch watercress, stems trimmed, chopped
2 ounces blue cheese, preferably Roquefort, crumbled
6 strips cooked bacon, roughly chopped
3 hard-boiled eggs, peeled and cut into 1⁄2-inch cubes
2 medium tomatoes, peeled, seeded, and cut into 1⁄2-inch cubes
1 boneless skinless chicken breast, cooked and cut into 1⁄2-inch cubes
1 avocado, peeled, pitted, and cut into 1⁄2-inch cubes
Sea salt and freshly ground black pepper
2 tablespoons. minced chives
Directions
Prepare the salad by putting the iceberg lettuce, romaine and watercress onto a serving platter. Place the crumbled blue cheese, bacon, eggs, tomatoes, chicken and avocado on top of the lettuce mixture and arrange into neat rows.
Put the canola oil, olive oil, vinegar, lemon juice, mustard, Worcestershire, sugar, garlic and a few pinches of salt and pepper into a blender and process until smooth.
Drizzle the salad with the dressing and then sprinkle with some additional salt and pepper, and the minced chives. Serve immediately.