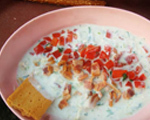 Prep: 10 min
Cook Time: 6 min
Total: 16 min
Serving: 6 Servings
Is there really a better dip than one that combines crispy bacon, creamy sour cream and blue cheese? Didn't think so. Serve this decadent blend with crudités and crackers.
Ingredients
4 slices bacon, finely chopped
1 (8-ounce) container sour cream
1 (8-ounce) container cream cheese
1/3 cup (About 2 ounces) crumbled blue cheese
2 teaspoons fresh lemon juice from 1 lemon
1 teaspoon sea salt
1 teaspoon Worcestershire sauce
1/4 cup thinly sliced scallions (about 2 medium)
2 tablespoons finely chopped fresh Italian parsley
1 medium avocado, finely chopped
2 Roma tomatos, seeded and chopped
Directions
Cook the bacon in a small skillet over medium heat for about 6 minutes or until crispy. Transfer to a paper towel-lined plate to drain and then crumble once cool enough to handle.
In the meantime, mix the cream cheese, sour cream, blue cheese, lemon juice, salt, and Worcestershire together until thoroughly blended, and then fold in the avocado, scallions, and parsley.
Transfer the cheese mixture to a dip bowl and then top with the crumbled bacon and the tomato. Serve immediately.