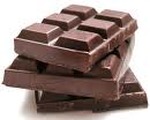 Prep: 3 hr 10 min
Cook Time: 15 min
Total: 3 hr 25 min
Serving: 6
Cloud of Chocolate is garnished with whipped cream and chopped pecans. Dreamy!
Ingredients
1 envelope unflavored gelatin
2 squares unsweetened chocolate, melted
1/2 cup confectioners' sugar
1 cup milk, heated
3/4 cup sugar
1/4 teaspoon salt
1 teaspoon vanilla extract
2 cups heavy cream, whipped
1/2 cup pecans, finely chopped
1/2 cup flaked coconut
Directions
Soften gelatin in 1/4 cup cold water. Combine chocolate and confectioners' sugar in saucepan. Stir in milk gradually. Heat to boiling point over low heat, stirring constantly. Do not boil. Remove from heat.
Add gelatin, stirring until dissolved. Stir in sugar, salt and vanilla. Chill until thick.
Beat until light and fluffy. fold in remaining ingredients. Pour into 2-quart serving bowl. Chill for 3 hours. Garnish with whipped cream and chopped pecans.