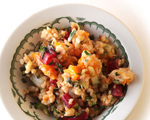 Prep: 20 min
Cook Time: –
Total: 20 min
Serving: Makes about 3 cups
Tabbouleh originates from Lebanon and is a delicious salad whose main ingredients include chopped parsley, cracked wheat, fresh lemon juice and olive oil. Serve with grilled meats such as chicken or lamb.
Ingredients
3 tablespoons Number 1 grade bulgur wheat
1/2 cup warm water
1⁄2 medium white onion, chopped
1 teaspoon sea salt and more to taste
1⁄2 teaspoon ground allspice
1 pound medium tomatoes, cored, seeded, and finely chopped
3 cups minced flat-leaf parsley
1⁄2 cup finely chopped mint leaves
7 tablespoons extra-virgin olive oil
5 tablespoons fresh lemon juice
Directions
Place the bulgur into a bowl and add the water. Cover the bowl and let stand for 10 minutes, and then drain the bulgur and place into a shallow bowl.
Spread the sliced onions onto a large plate, sprinkle with 1 teaspoon of salt and the allspice and then chop into small pieces.
Place the onion mixture into the bowl with the bulgur and then add the tomatoes, parsley, mint, oil, and lemon juice. Sprinkle the salad with a few pinches of salt and toss well to combine. Serve immediately.