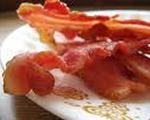 Prep: 12 hr 25 min
Cook Time: 10 min
Total: 12 hr 35 min
Serving: 15
Classic Rumaki is a bacon wrapped chicken liver.
Ingredients
1/4 cup soy sauce
1/4 cup vegetable oil
2 tablespoons ketchup
1 tablespoon vinegar
1/4 teaspoon pepper
2 cloves garlic, crushed
1/4 cup brown sugar
18 whole chicken livers
1 pound bacon
1 1/2 cans water chestnuts, drained
Directions
Combine soy sauce, oil, ketchup, vinegar, pepper and garlic. Marinate chicken livers and water chestnuts overnight.
Cut chicken livers and water chestnuts in half. Cut bacon strips in half. Roll 1 chicken liver and 1 water chestnut in bacon and secure with toothpick. Place on baking sheet lined with foil and sprinkle with brown sugar.
Bake at 500 degrees F for 10 minutes; turn over and continue baking until crispy. Watch carefully to not let burn.