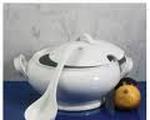 Prep: 25 min
Cook Time: 1 hr 30 min
Total: 1 hr 55 min
Serving: 6
Classic Minestrone Soup will have your family saying, "Grazie!"
Ingredients
1 onion, chopped
2 stalks celery, chopped
1 clove garlic, minced
2 tablespoons olive oil
1, 15 ounce can tomatoes, cut up
2 tablespoons fresh parsley, snipped
1 1/2 teaspoons dried basil, crushed
1/2 teaspoon dried oregano, crushed
1/8 teaspoon pepper
1 bay leaf
3 cups beef or vegetable broth
2 cups desired vegetables, cubed (potatoes, green beans, zucchini, broccoli, carrots
1/2 cup broken thin spaghetti
3/4 cup canned kidney beans
grated Romano or Parmesan cheese
Directions
In a large Dutch oven cook the onion, celery and garlic in hot oil till onion is tender. Add the tomatoes, parsley, basil, oregano, pepper and bay leaf. Add the broth. Bring to boiling; reduce heat. Cover and simmer 50 minutes.
Add the desired vegetables except zucchini. Simmer, covered, 15 minutes more or until vegetables are just tender. Add the spaghetti, zucchini and cooked beans. Cook 15 minutes more or til the spaghetti is done. Remove bay leaf.
Sprinkle 1 tablespoon of cheese over each serving of soup.