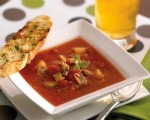 Prep: 20 min
Cook Time: 35 min
Total: 55 min
Serving: Serves 6-8 people
This Classic Manhattan Clam Chowder soup is the cousin of the cream-based "New England" version. This soup is hearty and warming for a cool evening. Serve with crunchy artisan bread.
Ingredients
1 teaspoon vegetable oil
4 ounces bacon, diced
1 onion, finely chopped
2 carrots, chopped
2 stalks celery, chopped
4 tomatoes, peeled, seeded and chopped
3 potatoes, diced
Pinch of dried thyme
3 tablespoons chopped fresh parsley
2/3 cup tomato juice
2-1/2 cups low-sodium vegetable stock
36 littleneck clams
2/3 cup dry white wine
Salt & pepper to taste
Directions
Add the oil to a medium-sized saute pan over medium heat. Add the bacon and cook for about 6 minutes, stirring often, until golden. Remove with a slotted spoon.
Add the onion, carrots and celery to the pan and reduce the heat to low. Cook for about 5 minutes, stirring occasionally, until the vegetables are soft. Increase the heat to medium and add the tomatoes, potatoes, thyme and parsley. Add the bacon back to the pan. Season with salt and pepper. Add the tomato juice and vegetable stock. Bring the mixture to a boil, stirring constantly. Reduce heat, cover and simmer for about 20 minutes, or until the potatoes are tender.
Scrub the clams under cold running water. Inspect the clams and throw out any with broken shells or those that don't close when tapped. Add the clams to a pan, add the wine and cover. Cook the clams over high heat, stirring occasionally, for about 5 minutes (or until the clams have opened).
Remove the clams only. Throw out any clams that are still closed. Strain the liquid through a cheesecloth-lined strainer into the soup mixture. Remove the clams from the shells and add them to the soup. Heat the soup, stirring constantly, for about 3 minutes. Serve warm.