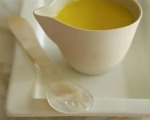 Prep: –
Cook Time: 15 min
Total: 15 min
Serving: Makes 2 cups
Classic Hollandaise Sauce, a French sauce, is creamy and buttery with a bit of tang. Great to top Eggs Benedict or steamed asparagus.
Ingredients
3 egg yolks
1/2 pound melted butter, cooled to room temperature
2 tablespoons lemon juice
1/2 teaspoon salt
Dash of cayenne pepper
Directions
Use a double boiler to make this sauce, but if you don't have one, use a thick ceramic bowl set into a heavy pan that has about 1-1/2 inches of water in it. Also be sure to use a whisk for constant stirring.
Add the egg yolks to the bowl (or upper part of the double boiler) while off the heat. Whisk together. Place the upper bowl over hot water. Stir the eggs continuously, and slowly bring the water to a simmer (make sure not to boil). While stirring, make sure there is no film at the bottom of the bowl.
Once the yolks are thick, begin to add the cooled, melted butter, gradually and slowly. Again, be sure to stir constantly. As you gradually add the butter, be certain it's incorporated into the eggs before adding more.
When all the butter has been added, add the lemon juice just a bit at a time, and immediately remove from the heat. Add the salt and a dash of cayenne.