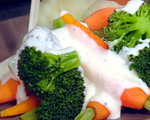 Prep: 5 min
Cook Time: 5 min
Total: 10 min
Serving: Makes 4-6 servings
If you are trying to think up new and creative ways to get your kids to eat their veggies, try this classic creamy vegetable sauce as incentive.
Ingredients
2 tablespoons butter
2 tablespoons flour
1/2 teaspoon salt
Dash of freshly ground pepper
1/2 cup milk
1/2 cup water in which the vegetables were cooked
Directions
Place the butter in a sauté pan over medium heat.
Once the butter has melted sprinkle in the flour, salt and pepper and whisk to combine.
When the butter mixture begins to bubble, slowly add the milk and the water and vigorously whisk to blend. v
Cook the mixture for 2 minutes, or until thick, and then pour over the prepared vegetables and serve immediately.