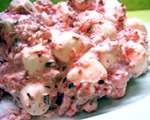 Prep: 4 hr 45 min
Cook Time: 5 min
Total: 4 hr 50 min
Serving: 8
Creamy Cranberry Salad is full of little pecan-covered cream cheese balls.
Ingredients
1 envelope unflavored gelatin
1/4 cup sugar
1 3/4 cups cranberry juice cocktail
2 tablespoons lemon juice
1 cup apple, unpeeled and chopped
1/2 cup celery, chopped
1, 3 ounce package cream cheese, softened
1/2 cup pecans, finely chopped
1/2 cup applesauce
1/2 cup sour cream
1/2 cup Miracle Whip
1 teaspoon celery seed
Directions
Combine gelatin, sugar and 3/4 cup cranberry juice n large saucepan. Cook over low heat until gelatin dissolves, stirring constantly. Stir in lemon juice and remaining 1 cup cranberry juice. Chill until partially set.
Add apple and celery. Cut cream cheese into 1/2 inch cubes and shape into balls. Roll in pecans. Fold into gelatin mixture. Pour into 3 cup mold. Chill until firm.
Unmold on serving platter lined with salad greens. Combine remaining ingredients in small bowl. Chill until serving time. Pass sauce.