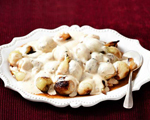 Prep: 5 min
Cook Time: 15 min
Total: 20 min
Serving: 12 Servings
Your holiday table isn't complete without a bowl of these classic creamed onions.
Ingredients
2 (16-ounce) bags frozen peeled pearl onions, thawed
2 tablespoons olive oil
1/4 cup cream sherry
2 tablespoons unsalted butter
1-1/2 tablespoons all-purpose flour
1/2 teaspoon dried thyme leaves, crumbled
1/8 teaspoon ground nutmeg
1 pinch ground cloves
1 1/2 cups half and half
1 cup chicken broth
Directions
Place the olive oil into a large sauté pan over medium-high heat. Once the oil begins to shimmer, add the onions and sauté for 6 minutes.
Stir in the sherry and simmer the mixture for 2 minutes before removing the onions with a slotted spoon and placing into a serving bowl.
Add the butter to the pan and melt over medium heat, then whisk in the flour, thyme, nutmeg and cloves and cook for 2 minutes.
Pour in the half and half, whisk to combine, and simmer the mixture for 3 minutes.
Transfer the onions back to the pan and cook for 2 minutes before seasoning with salt and pepper and serving.