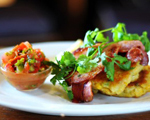 Prep: 20 min
Cook Time: 10 min
Total: 30 min
Serving: 2 Servings
This dish can be enjoyed as a light lunch or even for breakfast with a fried egg on top and a side of bacon.
Ingredients
2 plum tomatoes, coarsely chopped
1/3 cup chopped white onion
2 tablespoons chopped fresh cilantro
2 tablespoons chopped pickled jalapeño chiles
1 tablespoon fresh lime juice
2 ears corn, shucked or 1 can of corn
1 large egg
1/2 cup milk
1/3 cup yellow cornmeal
2 1/2 tablespoons all-purpose flour
1/4 teaspoon salt
3 tablespoons vegetable oil
Directions
In a medium-sized bowl, mix the tomatoes, onion, cilantro, chiles and lime juice. Sprinkle with salt and set aside and allow flavors to infuse.
Cut the kernels of corn from the cob and set aside. In a medium bowl, add the egg and milk. Mix with a wire whisk until mixture is smooth.
Add the cornmeal, flour, salt and corn to the bowl and mix ingredients until well blended.
In a large frying pan, heat 1 tablespoon of the olive oil over medium heat. Spoon in 2 tablespoons of batter to make a fritter. Fry for about 2 minutes per side and then remove from pan and blot with a paper towel. Continue frying the fritters with the rest of the oil and batter.
Place fritters on a plate and serve with salsa.