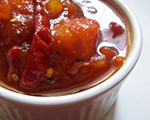 Prep: 15 min
Cook Time: 45 min
Total: 1 hr
Serving: 16 Servings
Chutney adds a wonderful blend of sweet and savory flavor to sauces, dips and sandwiches. Try this classic recipe made with fresh gingerroot and garlic.
Ingredients
1/2 cup firmly packed brown sugar
1/3 cup chopped green pepper
1/3 cup cider vinegar
1/4 cup golden raisins
4 medium (4 cups) tomatoes, chopped
2 tablespoons chopped onion
1 tablespoon lemon juice
1 teaspoon finely chopped fresh garlic
1 teaspoon grated fresh gingerroot
1/4 teaspoon salt
1/8 teaspoon ground red pepper
Directions
Put all of the ingredients in a large saucepan and place over low heat.
Cook the mixture for 45 minutes, stirring occasionally to prevent sticking.