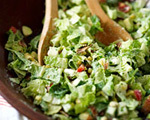 Prep: 1 hr 15 min
Cook Time: –
Total: 1 hr 15 min
Serving: 8 servings
A versatile salad that can be served with almost all main dishes, use romaine or Boston lettuce for the best results.
Ingredients
3 cloves garlic, peeled and minced
sea salt
1/2 lemon
1 8-ounce carton créme fraiche or sour cream
Freshly ground black pepper
2 hearts romaine lettuce
2 ears cooked fresh corn
4 ounces cooked green beans, trimmed and cut in 2-inch lengths
1 cup cherry tomatoes, halved
1 cucumber, seeded and chopped
1/4 cup finely chopped fresh chives
Sea salt
Freshly ground black pepper
1 avocado, halved, seeded, peeled, and cut into chunks
6 slices bacon, crisp-cooked and crumbled
Directions
Place the garlic into a small bowl and sprinkle with a generous amount of salt. Mash the garlic with a wooden spoon until it becomes a paste.
Squeeze the lemon over the garlic and then add another pinch of salt. Mix and then let the garlic stand for 15 minutes.
Add the crème fraiche or sour cream to the bowl along with a few grinds of pepper, and whisk the mixture to combine. Place in the refrigerator for 1 hour to allow flavors to blend.
Place the corn, green beans, tomatoes, cucumber, a few pinches of salt and pepper and half the chives into a salad bowl, and toss to coat with 3 tablespoons of the dressing.
Add the lettuce and the remaining chives to the bowl with 2 more tablespoons of dressing. Toss to coat, and then add in the bacon, avocado and the remaining dressing and gently toss once again. Serve immediately.