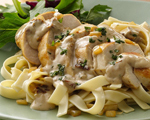 Prep: 25 min
Cook Time: 50 min
Total: 1 hr 15 min
Serving: Serves 2
A classic Italian dish made with a creamy white sauce and succulent pieces of sautéed chicken. Serve over fettuccine pasta and with a fresh green salad.
Ingredients
2 eggs
1 tablespoon milk
1 cup grated parmesan cheese
2 tablespoons fresh chopped parsley
1/2 cup bread crumbs
salt and freshly ground black pepper
3 tablespoons olive oil
2 boneless, skinless chicken breasts
3 tablespoons butter
1/2 pint heavy cream
1/2 cup milk
2 slices fresh mozzarella cheese
Directions
Preheat oven to 350 degrees.
In a medium bowl, beat the eggs with the milk and then mix half of the graded cheese and 1 tablespoon of the fresh parsley; set aside.
Place the breadcrumbs on a flat plate, and sprinkle with salt and pepper; set aside.
Heat a large sauté pan with olive oil on medium-high. Dip each piece of chicken into the egg mixture and then dredge in the breadcrumbs, pushing firmly to adhere.
Put the chicken into the sauté pan and cook until both sides of the chicken are golden brown. Take out of the pan and place in a baking dish.
In a small sauce pan, melt the butter over medium-high heat. Pour in the cream and the milk and stir constantly with a wire whisk. Add the remaining graded cheese and the remaining fresh parsley, and cook just until cheese is melted and sauce has heated through.
Pour the sauce over the chicken in the casserole dish, securely cover with aluminum foil and bake for 25 minutes. Remove from oven and place a piece of sliced mozzarella cheese on each piece of chicken.
Bake for an additional 5 minutes, remove from oven and serve immediately.