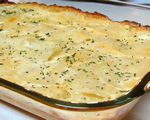 Prep: 20 min
Cook Time: 1 hr 30 min
Total: 1 hr 50 min
Serving: Serves 10
Heavy cream and traditional Swiss cheese makes this a rich dish and a wonderful addition to any holiday feast.

Ingredients
1 clove garlic, peeled and slightly crushed with the flat side of a knife
3 pounds baking potatoes (about 6 large), peeled and sliced in 1/8" thick rounds
6 ounces Gruyère or Swiss cheese, finely shredded
1/2 teaspoon salt
1 cup heavy (whipping) cream
Directions
Heat oven to 350°F. Rub a shallow 2 quart baking dish with the garlic. Layer half the potatoes evenly over bottom of prepared dish.
Sprinkle with half the cheese and salt; drizzle with half the cream. Repeat with remaining ingredients.
Bake uncovered 1-1/2 hours or until potatoes are tender when pierced and top is brown and crisp. Planning tip: may be baked up to 1 day ahead. Cover with foil and refrigerate.