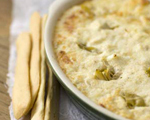 Prep: 15 min
Cook Time: 25 min
Total: 40 min
Serving: Serves 4-6
You can't have a party without making an artichoke dip for guests to snack on. It's simple and delicious and can be tweaked to include other ingredients, like chilies, onions or spinach. Bon appetite!
Ingredients
2 cans of artichoke hearts
1 tablespoon fresh lemon juice
1-1/2 cup of mayonnaise
1 1/2 cup of shredded Parmesan cheese
1 teaspoon thyme
Salt and pepper
Directions
Preheat the oven to 400 degrees.
Drain the artichokes from the cans and roughly chop into pieces.
Place the chopped artichokes in a bowl and add the lemon juice, mayonnaise, cheese and thyme. Mix until well blended and then season with salt and pepper.
Transfer the artichoke mixture to a baking dish and cover tightly with foil. Place in oven and bake for 15 minutes.
Remove the foil from the dish and cook for 10 more minutes at 450 degrees.
Remove from oven and serve immediately with whole wheat crackers or toasted pita bread.