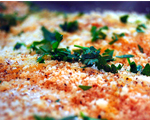 Prep: 15 min
Cook Time: 50 min
Total: 1 hr 5 min
Serving: 6 Servings
An impressive Italian dish that can be used as a starter for a seafood inspired dinner menu. Pair with a Pinot Grigio to compliment the taste of the clams.
Ingredients
2 tablespoons olive oil
1 tablespoons butter
2 medium onions
5 cloves minced garlic
2 medium shallots
1/4 cup fresh parsley
2 tablespoons dried oregano
2 6-oz. cans of minced or chopped clams
1 cup bread crumbs
1/2 cup grated cheese (a combination of Parmesan, Romano, and Gruyere)
1 tablespoons garlic powder
salt & pepper to taste
Directions
Preheat oven to 325 degrees.
In a sauté pan, heat the oil and butter together over medium heat. Sauté the onions, garlic and shallots until soft and translucent.
Sprinkle in the parsley and oregano and mix well.
Remove pan from heat and stir in the clams, breadcrumbs and 3/4 of the cheese. Use the reserved clam juice to moisten the mixture if it appears dry.
Add the garlic powder, and salt and pepper to taste.
Place the mixture in a buttered baking dish, spreading evenly. Sprinkle the remaining cheese on top and then place in oven. Bake for 40 minutes. Garnish with parsley and lemon wedges if desired.